Hey, fellow parents! If you're reading this "Best Sleeping Position for Colic Baby", chances are you're trying to find the best way to ease your little one's colic symptoms, especially when it comes to sleep. As someone who's been there, I understand how challenging it can be. Let's explore together the best sleeping positions for colic babies and other tips to help soothe your bundle of joy.
Understanding Colic in Infants
Understanding colic in infants is crucial for any parent dealing with this challenging condition. Colic is often characterized by prolonged periods of intense, unexplained crying in an otherwise healthy baby. This can be distressing for both the baby and the parents. The causes of colic are not fully understood, but theories include gastrointestinal discomfort, overstimulation, and a developing nervous system. Recognizing that colic is a common phase in many infants' early development can provide some reassurance. It's not a reflection of your parenting skills or your baby's health.
Moreover, dealing with colic requires patience and experimentation with different soothing techniques. Every baby is unique, so what works for one might not work for another. It's a process of trial and error. Parents are often advised to look for patterns in their baby's crying – such as specific times of day or triggers – which can offer clues for effective soothing strategies. Understanding your baby's cues and responses is a significant step in managing colic effectively.
Best Sleeping Positions for Colic Babies
Back Sleeping
Back sleeping is widely recommended as the safest sleeping position for infants, including those with colic. This position is important for reducing the risk of Sudden Infant Death Syndrome (SIDS). For colicky babies, back sleeping can be comfortable, but adding a slight elevation can sometimes offer additional relief. You can achieve this by safely placing a wedge under the crib mattress, which can help ease discomfort caused by gas or reflux. It's vital, however, to ensure that any elevation is gentle and does not pose a risk of sliding or rolling.
In addition to safety, back sleeping also promotes better alignment of the baby's airways, making breathing easier during sleep. While some parents worry that back sleeping might not be comfortable for a colicky baby, the safety benefits far outweigh these concerns. Ensuring that the baby's sleep environment is firm, flat, and free from loose bedding or toys is also crucial in promoting safe and comfortable back sleeping.
Left-side Sleeping
Left-side sleeping is another position that some parents find helpful for colicky babies, especially in easing digestive discomfort. The theory is that this position can aid digestion and reduce the discomfort associated with gas or reflux. However, it's important to note that left-side sleeping should only be done under supervision and when the baby is awake. Once the baby falls asleep, it's safest to gently move them onto their back in line with safe sleep guidelines.
Furthermore, when trying left-side sleeping, support is key. You can use a specially designed infant pillow to ensure your baby is comfortable and secure. The idea is to provide a soothing position that can help calm a colicky baby, potentially making it easier for them to fall asleep. Remember, though, that supervised awake time on the left side should always transition to safe back sleeping when it's time for rest.
Importance of Proper Sleeping Positions
The importance of proper sleeping positions for infants, especially those with colic, cannot be overstated. Correct sleeping positions are not only about comfort but are crucial for safety. For colicky babies, finding a position that alleviates discomfort while also adhering to safe sleep practices is a delicate balance. Parents need to be aware of the latest guidelines and recommendations for safe infant sleep to reduce risks such as SIDS.
Additionally, understanding that proper sleeping positions can influence a baby's overall well-being is essential. A comfortable position can lead to better quality sleep, which is important for the baby's development and can also reduce the intensity and frequency of colic episodes. Parents should observe their baby's responses to different sleeping positions and consult with healthcare providers to ensure they're making the best choices for their baby's health and safety.
Implementing the 5 S's Method for Comfort
The 5 S's method, developed by Dr. Harvey Karp, is a lifesaver. It includes:
Swaddling: Wrap your baby snugly in a blanket to mimic the coziness of the womb. This can provide a sense of security and comfort.
Side/Stomach Position: Hold your baby either on their side or on their stomach to help soothe them. This position can be especially calming for a crying baby. Remember, this is for holding only and not for sleep.
Shushing: Create a "shushing" sound near your baby's ear. This sound mimics the noise they would hear in the womb and can be very soothing.
Swinging: Gently rock or swing your baby. This motion is reminiscent of the movements they felt when they were in the womb.
Sucking: Let your baby suck on something, like a pacifier. Sucking is a natural reflex and provides comfort to infants.
Implementing these methods can be highly effective in calming a colicky baby and promoting relaxation and sleep.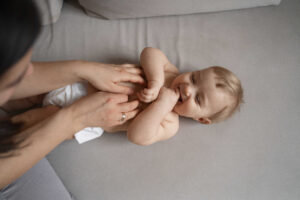 Adjustable Baby Sleep Aids
Wedge Pillows: Elevate one end of the crib mattress to provide a slight incline, which can help with digestion and reduce discomfort from reflux.
Adjustable Swaddle Blankets: Feature Velcro or zippers to easily adjust the tightness, accommodating your baby's preferred swaddling comfort.
Rocking Cribs or Bassinets: Allow gentle rocking motion, which can be soothing for babies, with adjustable intensity for different comfort levels.
Crib Mobiles with Sound and Light Options: Include adjustable volume and brightness settings, along with different melodies or white noise options to soothe the baby.
Portable Baby Swings: Offer adjustable swinging speeds and reclining positions, ideal for calming a fussy baby.
Adjustable Sleep Positioners: Provide support to keep the baby in a specific position, adjustable for size and angle for comfort and safety.
Sound Machines: Feature adjustable volume and a variety of sound options, including white noise or lullabies, to create a calming sleep environment.
Each of these aids can be tailored to meet the specific needs and preferences of your baby, helping to improve their sleep quality and comfort.
Creating a Soothing Sleep Environment
Creating a soothing sleep environment is pivotal for a colic baby's comfort and well-being. Start with a calm and quiet room, using soft, gentle lighting to create a relaxing atmosphere. A comfortable room temperature is essential, as babies are sensitive to heat and cold. Incorporating white noise or soft lullabies can also be beneficial. These sounds mimic the constant whir of noise babies hear in the womb and can be incredibly calming. Moreover, ensure that the crib or sleeping area is safe and secure, with a firm mattress and no loose bedding or toys.
Additionally, establishing a consistent bedtime routine can signal to your baby that it's time to wind down. This might include a warm bath, a gentle massage, or some quiet time with a soothing story or lullaby. Consistency is key, as routines provide a sense of security and comfort to babies. Remember, each baby is different, so what works for one might not work for another. Be patient and try different strategies to discover what best soothes your colic baby.
Tips for Feeding a Colic Baby
Feed in a Upright Position: Hold your baby in a more upright position during feedings to reduce the chance of swallowing air.
Burp Regularly: Gently burp your baby during and after each feeding to release any air trapped in their stomach.
Monitor Your Diet: If breastfeeding, watch your diet for foods that might trigger colic symptoms in your baby.
Use Anti-Colic Bottles: If bottle-feeding, consider using bottles designed to reduce the intake of air.
Feed Smaller Amounts: Offer smaller, more frequent feedings to prevent overfilling the baby's stomach.
Check Formula Types: For formula-fed babies, explore different types that are easier to digest or designed for sensitive tummies.
Create a Calm Environment: Feed in a quiet, soothing environment to keep the baby relaxed during feedings.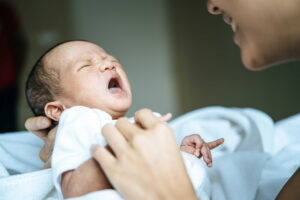 Gentle Massage Techniques for Colic Relief
Circular Motions on Belly: Gently massage your baby's belly in a clockwise circular motion to help release trapped gas.
'I Love You' Technique: Trace the letters 'I', 'L', and 'U' on your baby's abdomen to encourage bowel movement.
Leg Bicycling: Move your baby's legs in a bicycling motion to help ease gas and discomfort.
Back Rubs: Gently rub your baby's back while they lie on their stomach to help release gas.
Warm Bath Massage: Combine a warm bath with gentle tummy rubs, as the warmth can soothe and relax your baby.
Palm Pressure: Apply slight pressure with the palm of your hand on your baby's belly, but always be gentle and careful.
Soothing Sounds: Combine massage with soft, soothing sounds or singing to relax the baby further.
Monitoring Baby's Sleep Patterns
Monitoring your baby's sleep patterns can provide valuable insights into managing their colic. Pay attention to how your baby sleeps, noting the times when they seem most comfortable or restless. Do they sleep better after a certain routine or in a particular position? Keeping a sleep diary can help you track patterns and identify what helps or hinders their sleep. Also, notice if there are environmental factors, like noise or light, that affect your baby's sleep, and adjust the environment accordingly.
Understanding these patterns is not only helpful in addressing colic but also in establishing healthy sleep habits. It can guide you in making adjustments to your baby's sleep environment or routine. If you notice irregularities or changes in your baby's sleep patterns, it might be indicative of something that needs further attention or a new strategy that might be working well.
When to Consult a Pediatrician
Consulting a pediatrician is crucial when you have concerns about your baby's colic or overall health. If the colic seems severe, or if your baby is not eating, sleeping, or growing normally, it's important to get professional advice. Also, if home remedies and adjustments in routine don't seem to alleviate the colic symptoms, a pediatrician can offer additional strategies or check for underlying medical conditions.
Furthermore, if your baby's crying is accompanied by other symptoms like fever, vomiting, or diarrhea, it's essential to consult a doctor to rule out other health issues. Pediatricians can provide reassurance and support, helping you navigate through this challenging phase. They can also offer guidance on when the symptoms might likely improve and what warning signs to look out for, ensuring your baby's health and well-being.
Parental Self-Care and Support
Caring for a colic baby can be physically and emotionally draining for parents. It's crucial to take care of your own health and well-being during this time. Don't hesitate to ask for help from family or friends to get some rest or a break. Joining support groups or forums where you can share experiences and tips with other parents in similar situations can also be beneficial.
It's important to remember that taking care of yourself is not selfish – it's necessary. Ensuring you are well-rested and mentally healthy can significantly impact your ability to care for your baby effectively. Be kind to yourself, acknowledging that handling a colic baby is challenging and that it's okay to feel overwhelmed at times. Seeking support, whether from loved ones or professionals, is a sign of strength, not weakness.
Common Myths About Colic
There are several myths about colic that can cause unnecessary worry for parents. One common myth is that colic is caused by something the parents are doing wrong, which is not true. Colic is a natural phase that some babies go through and is not a reflection of parenting skills. Another myth is that colic is due to a baby's diet or a breastfeeding mother's diet. While dietary factors can contribute to discomfort, they are not typically the sole cause of colic.
Additionally, some people believe that colic can lead to long-term behavioral problems or health issues in babies, which is generally unfounded. Colic does not affect a baby's temperament or health in the long run. It's important for parents to understand the facts about colic to avoid undue stress and to approach the condition with a realistic and informed perspective.
Long-term Outlook for Colic Babies
The long-term outlook for colic babies is generally very positive. Most babies outgrow colic by the time they are 3 to 4 months old. It's important to remember that colic, despite being challenging and stressful, is temporary and does not have long-term health implications for your baby. As babies grow and their digestive systems mature, the symptoms of colic typically diminish and eventually resolve.
Parents should also know that having colic does not affect a baby's future temperament or personality. Once the colic phase passes, babies usually continue to develop normally, both physically and emotionally. Understanding that this is a phase that will pass can provide some comfort during the more difficult nights. It's a journey, but with the right support and care, both you and your baby will get through it.
FAQs
Can changing my diet help if I'm breastfeeding a colic baby?
Yes, some foods can trigger colic, so altering your diet might help.
Are colic and infant reflux the same?
No, they're different conditions, but they can have similar symptoms.
How long should I try a sleeping position before deciding it's not effective?
Give it a few days to a week, as babies often need time to adjust.
Can a pacifier help a colic baby?
Yes, sucking on a pacifier can be soothing for some colic babies.
Is it normal to feel overwhelmed by my baby's colic?
Absolutely, it's challenging, but seeking support can help you cope better.
*We may earn a commission for purchases made using our links. Please see our disclosure to learn more.