Bunk beds have long been associated with childhood memories, adventures, and shared spaces. These versatile furniture pieces transform bedroom layouts, offering efficient space utilization, especially in shared rooms. As we dive deeper into the specifics, we're focusing on a modern twist to the traditional design: the Full Over Queen Bunk Bed.
The Appeal of Full Over Queen Bunk Bed Design
Bunk beds have been a staple of children's bedrooms and hostels for many years. However, the full over queen bunk bed is more than just a traditional bunk bed; it's a fusion of practicality and modern design. The combination of a full bed on top and a larger queen bed below creates a dynamic duo of comfort and space-saving design. This type of bed isn't just functional; it also offers a unique aesthetic that can be a centerpiece in any bedroom.
Benefits and Uses
Full Over Queen Bunk Beds are more than just space-savers; they offer a range of benefits that cater to different needs. For families with kids who frequently have sleepovers, these beds are an absolute blessing. The larger bottom bunk can comfortably fit two or more kids, while the top bunk can serve as a cozy retreat for one. Moreover, these beds are excellent choices for vacation homes or cabins, ensuring that guests have comfortable sleeping arrangements without the house feeling cramped.
In addition to the immediate utility of sleeping, these beds can serve other purposes. Many models come with additional storage drawers underneath, perfect for storing linens, off-season clothing, or even toys. In apartments or rooms where square footage is at a premium, having a piece of furniture that's multifunctional is invaluable.
Maximizing Space
The beauty of the Full Over Queen Bunk Bed is how it maximizes vertical space. In rooms with limited floor area, utilizing the height of the room can make a big difference in its functionality and feel. By stacking beds, you essentially free up the footprint of an entire bed, providing ample room for other essential furniture pieces or simply creating a more spacious play or work area.
Beyond the immediate space saved by the bed itself, many of these bunk bed designs come with built-in shelving or storage options. This further reduces the need for additional furniture like dressers or bookcases, streamlining the room's layout and maintaining an open, airy feel.
Suitable for Varied Age Groups
One might mistakenly think that bunk beds are just for kids, but the Full Over Queen design caters to a broader age range. The larger mattress size on the bottom bunk makes it suitable for adults or older teenagers, ensuring a comfortable sleep without feet dangling over the edge. It's an ideal setup for families with children of varied age groups. The younger ones can climb to the top bunk, making it their little haven, while the older ones or even parents can use the more spacious bottom bunk.
Additionally, for those who have frequent guests, these beds can be a lifesaver. Instead of having a separate guest room, which might not be feasible in every home, a Full Over Queen Bunk Bed in a kid's room or a family room can serve as an impromptu guest bed. It ensures that everyone, regardless of age, has a comfortable place to rest at night.
Aesthetic Value
Beyond functionality, the full over queen bunk bed is a stylish addition to any bedroom. With various materials, from wood to metal, and designs ranging from rustic to contemporary, there's a bed to match any decor. Its unique structure can be a conversation starter, and with the right bedding and accessories, it can become the focal point of bedroom design.
Key Factors to Consider
When contemplating the addition of a full over queen bunk bed to your home, it's paramount to consider certain crucial factors. While its aesthetic appeal and space-saving design are evident, there are underlying considerations to ensure you get the most out of your investment. From materials used in construction to the ease of assembly, every aspect contributes to the bed's longevity, safety, and overall user satisfaction.
Material Quality
The foundation of any durable and sturdy bunk bed lies in its material. Solid woods like pine, oak, or maple are renowned for their longevity and robustness. On the other hand, metal frames, particularly those made of steel or aluminum, offer a sleek, modern look and are known for their resilience. While particle board or MDF can be more cost-effective, they might not provide the same durability as solid woods or metals. It's essential to strike a balance between budget and quality, ensuring that the bed stands the test of time.
Safety Concerns
Safety is paramount, especially when it comes to bunk beds. The stability of the frame is crucial to prevent wobbling or tipping. Railings on the upper bunk should be high enough to ensure the user won't roll off during sleep. The ladder's design and strength are also vital, ensuring secure access to the top bunk. It's advisable to look for bunk beds that adhere to safety standards and undergo rigorous testing, offering peace of mind to homeowners.
Assembly and Installation
Assembling a full over queen bunk bed can be a daunting task. Some models come with clearer instructions and are easier to put together, while others might require professional assistance. It's wise to check customer reviews regarding the assembly process or even consider brands that offer assembly services. Ensuring that the bed is properly assembled not only guarantees safety but also ensures the bed's longevity.
Top Recommendations and Brands
There are myriad options in the market, but not all are created equal. It's crucial to read reviews, seek recommendations, and perhaps even test a bed out if possible.
1. DHP Full Over Queen Metal Bunk Bed
Type: Metal frame with solid ladders and guardrails for the top bunk.
Note: DHP is known for its durable and modern design of metal bunk beds.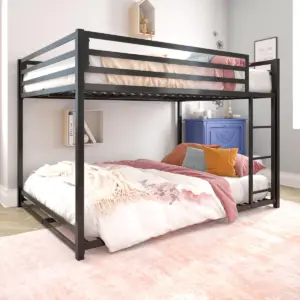 2. ACME Limbra Full XL/Queen Bunk Bed
Type: Industrial design with a metal frame. Comes with storage space.
Note: ACME is a brand known for its quality and innovative design.
3. Furniture of America Rivell Queen over Queen Bunk Bed
Type: Solid wooden construction with a sturdy design and built-in steps.
Note: Furniture of America is a popular brand known for its quality wooden furniture.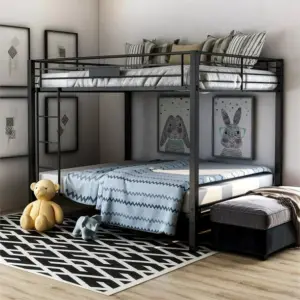 Maintenance and Care Tips
Like any furniture piece, proper maintenance is key to ensuring your bunk bed remains in optimal condition. Regularly inspecting the bed for any loose screws or weak points helps in timely identification of potential issues. Dusting and cleaning the frame, irrespective of whether it's wood or metal, prevents buildup and keeps the bed looking fresh. If it's a wooden frame, occasional polishing can help maintain its sheen, while metal frames might benefit from anti-rust treatments every once in a while. Proper care and maintenance can significantly enhance the lifespan and appearance of the bunk bed.
Summary
A full over queen bunk bed is a splendid addition to any home, blending space efficiency with style. However, ensuring it remains a prized possession for years demands careful consideration of its material, safety features, assembly process, and maintenance requirements. By paying heed to these pivotal factors, you're not only guaranteeing a sound investment but also ensuring countless nights of safe and restful sleep for your loved ones.
*We may earn a commission for purchases made using our links. Please see our disclosure to learn more.