As a passionate adventurer and an ardent lover of the outdoors, there's nothing that appeals to me more than the serenity that nature has to offer. One of the most exceptional experiences one can enjoy in the great outdoors is sleeping under the sprawling, starlit sky. In these moments, a hammock sleeping bag can elevate your outdoor experience to an entirely new level, transforming a simple camping trip into a luxurious adventure.
Understanding the Hammock Sleeping Bag
What is a Hammock Sleeping Bag?
A hammock sleeping bag, quite simply, is an ingenious combination of a hammock and a sleeping bag. It is a unique sleeping solution crafted especially for hammock use, offering a perfect blend of warmth, comfort, and protection against the elements. It's a dream come true for hammock campers, providing an insulated sleeping environment that is as thrilling as it is cozy. If you've ever wondered about the pinnacle of comfort when camping, you're looking right at it.
Key Features of Hammock Sleeping Bags
Hammock sleeping bags come packed with numerous features that make them the perfect companion for hammock camping. Typically, they are fitted with insulated pads or even bottom quilts, designed to provide a warm sleeping experience even in colder environments. Hammock sleeping bags are created with durable materials that can withstand diverse conditions, whether you're facing rain, wind, or even snow. Additionally, they come in various sizes and weights to cater to different body types and camping needs.
Why You Need a Hammock Sleeping Bag
Comfort and Convenience
The hammock sleeping bag revolutionizes your sleeping arrangements when camping. With a hammock sleeping bag, you're not only promised a snug sleep, but you're also safeguarded against the chill, the rain, and even pesky bugs. Say goodbye to the discomfort of rocky, uneven terrain or the frustration of a complicated tent setup. With a hammock sleeping bag, you have your cozy and inviting bed ready in minutes.
Besides offering a comfortable sleeping environment, hammock sleeping bags are also designed for easy transportation. Their lightweight nature and ability to compress into compact sizes make them incredibly convenient to carry. So, no matter how far you intend to hike or how much other gear you have, a hammock sleeping bag won't add a significant burden. It's comfort and convenience neatly packed into one.
Moreover, hammock sleeping bags are designed with user-friendliness in mind. They come with easy-to-operate zippers and drawstrings for easy in-and-out access and temperature control. They also often include pockets or compartments, providing a safe and handy space for your essentials like a phone or a flashlight. With a hammock sleeping bag, convenience is always at your fingertips.
Versatility
One of the most attractive aspects of hammock sleeping bags is their versatility. They are lightweight and compact, making them an excellent choice for any adventure, be it hiking, camping, or simply lazing around in the park on a sunny day. Whether you're venturing into the mountains or embarking on a cross-country backpacking trip, a hammock sleeping bag can be your faithful companion.
Durability
Built to last, hammock sleeping bags are designed to withstand the test of time. These bags are built to endure various climatic conditions, promising you a reliable sleep solution season after season. Your investment in a hammock sleeping bag is sure to be long-term, providing unmatched comfort and protection for numerous adventures to come.
How to Choose the Right Hammock Sleeping Bag
Material
The material of your hammock sleeping bag plays a crucial role in its performance. It's important to choose a bag that is crafted from durable, weather-resistant fabrics like nylon or polyester. These materials can withstand various climatic conditions, offering excellent protection against the elements. Whether you're camping in a rainy forest or on a windy mountain top, a hammock sleeping bag made of sturdy material will hold up.
However, durability is not the only consideration when it comes to material choice. Comfort is equally important. The inner lining of the sleeping bag should be soft and skin-friendly to ensure a cozy sleep. Some sleeping bags come with a brushed polyester lining that offers an additional layer of comfort, emulating the feeling of your bed sheets at home.
Lastly, the material also impacts the overall weight of the sleeping bag. Lightweight materials such as nylon or polyester keep the bag portable and easy to carry. They also dry quickly if they get wet, which is a significant advantage when camping in damp or rainy conditions. Therefore, choosing a hammock bag with the right material can enhance your camping experience by offering a blend of durability, comfort, and convenience.
Insulation
Your camping conditions will dictate the type of insulation you'll need in your hammock sleeping bag. If you're heading towards colder climates, you might want to opt for a bag with down insulation, known for its exceptional warmth. For damp or wet environments, synthetic fills offer superior performance.
Size and Weight
When selecting a hammock sleeping bag, you need to consider its size. Choose a size that will accommodate you comfortably. If the bag is too small, you might find it restrictive and uncomfortable. On the other hand, if the bag is too large, it might fail to provide adequate insulation, leaving you cold. Most manufacturers provide size guides to help you select the perfect fit.
Another critical aspect related to size is the packed size of the sleeping bag. Hammock sleeping bags are designed to be compact for easy transportation. A bag that packs down small will take up less space in your backpack, leaving room for other essentials. Some hammock sleeping bags come with compression sacks that enable you to reduce their packed size further.
The weight of the sleeping bag is another important consideration, especially for backpackers or hikers. Every ounce counts when you're carrying your gear for long distances. Therefore, opt for a lightweight hammock sleeping bag if you plan to do a lot of hiking or backpacking. A lighter bag will cause less strain on your back and shoulders, making your trekking experience more enjoyable.
Price
Like any product on the market, hammock sleeping bags come at different price points. Determine what you need from your bag and establish a budget. This will help narrow down your options and ensure you get the best value for your money.
Tips for Using Your Hammock Sleeping Bag
Setting Up
Proper setup of your sleeping bag is crucial for a comfortable night's sleep. The first step is to ensure your hammock is securely hung. Look for sturdy trees or poles that are about 10 to 15 feet apart. The hammock should be hung at a comfortable height, and the straps should be secure. Make sure the hammock isn't too loose or too tight. A 30-degree angle between the hammock strap and the ground is generally considered ideal.
Next, it's time to set up your hammock bag. Start by laying out your sleeping bag inside the hammock. Ensure that it's properly aligned and evenly spread out. Then, get into the sleeping bag and adjust it around you until you're comfortable. Some hammock sleeping bags come with straps or sleeves to keep the bag in place. Use these features to secure the bag to the hammock and prevent it from sliding or bunching up during the night.
Once your hammock and sleeping bag are set up, it's a good idea to do a test run. Lay in the hammock and move around a bit to see if everything stays in place. This step will help you identify and correct any issues before it's time to sleep. The goal is to ensure that you have a secure and comfortable sleeping arrangement ready for the night. With proper setup, your hammock bag will provide a cozy cocoon that will keep you warm and comfortable all night long.
Maintenance
Looking after your hammock sleeping bag will significantly extend its life. Always adhere to the manufacturer's care instructions and store it in a dry, ventilated place. Regular maintenance can keep your bag in optimal condition, ensuring it delivers excellent performance trip after trip.
Top 3 Hammock Sleeping Bags
1. Outdoor Vitals Aerie Down Underquilt/Sleeping Bag
The Aerie Down Underquilt by Outdoor Vitals is an excellent option for those who seek versatility and top-notch quality. It's a 5-in-1 solution that can be used as a hammock underquilt, hammock pod system, technical blanket, sleeping bag, or double sleeping bag. Filled with premium quality 800 fill power down, it provides incredible warmth, making it suitable for colder camping environments. The outer shell is made from 20D ripstop nylon which makes it durable and weather-resistant.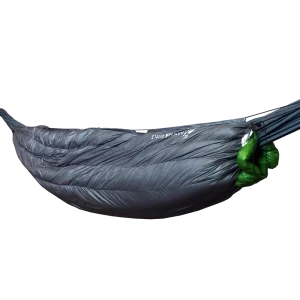 2. ENO Eagles Nest Outfitters – Vesta TopQuilt
ENO's Vesta TopQuilt offers a unique, quilted design that's perfect for hammock camping. It's filled with synthetic PrimaLoft insulation, ensuring warmth in cooler temperatures. The ripstop nylon shell is water-resistant, and the quilt's design allows for a natural sleeping position. It's lightweight and packs down into a compact size, making it a great option for backpackers or hikers.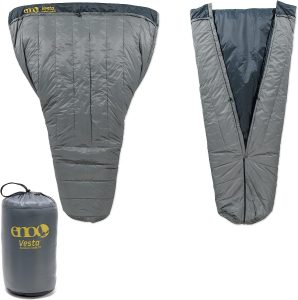 3. Snugpak Hammock Cocoon with Travelsoft Filling
The Snugpak Hammock Cocoon is an all-encompassing solution for hammock campers. Designed like a giant sleeping bag for your hammock, this model wraps around the outside to create a barrier against cold temperatures. The Travelsoft filling provides excellent insulation while remaining lightweight. Its unique design allows it to work with nearly all hammocks and its simplicity makes it very easy to set up. This sleeping bag cocoon is a great option for those looking for a straightforward, effective solution to staying warm while hammock camping.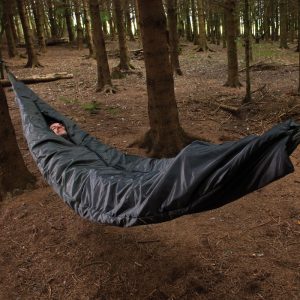 Conclusion
In the world of outdoor adventures, a hammock bag is a true game-changer. It blends the best aspects of a hammock and a sleeping bag, providing you with an unparalleled outdoor sleeping experience. It's comfortable, versatile, durable, and above all, it brings a touch of luxury to the wild. So why not introduce a sleeping bag into your outdoor adventures? It could be the missing piece in your camping experience.
FAQs
1. Is a hammock sleeping bag essential for hammock camping?
While it's not a strict necessity, a hammock bag can significantly enhance your comfort and warmth during hammock camping.
2. Can I use a regular sleeping bag in a hammock?
Yes, you can. However, a regular sleeping bag may not offer the same level of comfort and insulation as a sleeping bag.
3. How do I clean my sleeping bag?
Cleaning procedures vary, so it's best to follow the manufacturer's instructions. Most bags are either hand-washable or machine-washable.
4. Can I use a hammock bag on the ground?
Although hammock sleeping bags are designed for use in hammocks, most can also be used on the ground if need be.
5. How much does a good hammock sleeping bag cost?
Prices can range widely based on the brand, material, and features. However, you can find a quality hammock bag between $50 and $200.
*We may earn a commission for purchases made using our links. Please see our disclosure to learn more.