In the world of space-saving furniture, Twin Loft Beds stand as a crowning achievement. With their elevated design, they do more than just provide a cozy spot to sleep. They open up a world of possibilities in terms of room layout and functionality, transforming a single room into a multipurpose haven.
What are Twin Loft Beds?
First, let's define what Twin Loft Beds are. Imagine a bunk bed, but without the lower bunk. That's your basic Twin Loft Bed. It's a bed hoisted on legs or a structure, usually about four feet from the floor. This elevation is what makes these beds so versatile. They take the footprint of a twin bed and free up all the space underneath. The loft bed's size is designed to fit a twin-size mattress, making it ideal for one person. It's like having a bunk bed without the bunkmate.
Types of Twin Loft Beds
There are as many types of Twin Loft Beds as there are people's needs. Some are simple – just a bed on stilts with an open space underneath. Others come equipped with built-in desks, shelves, or even wardrobes. Some designs are elaborate, featuring stairs instead of ladders, slides, or tents, adding a fun element to the mix. You'll also find convertible models where a second bed can be added to transform it into a traditional bunk bed.
Benefits of Twin Loft Beds
The benefits of Twin Loft Beds go beyond just saving space. These beds help foster organization. With a defined area for sleep, study, and storage, everything has its place. Twin Loft Beds also offer a sense of privacy. The elevated sleeping area provides a retreat from the rest of the room. And let's not overlook the aesthetics. Twin Loft Beds come in a variety of designs, from sleek and modern to whimsical and playful, adding a visual focal point to your room.
Selecting the Perfect Twin Loft Bed
Selecting the perfect Twin Loft Bed starts with assessing your needs. Are you looking to maximize storage? A bed with built-in drawers or shelves might be a good fit. Need a dedicated study space? Opt for a bed with an integrated desk. Always take into account the room's size and the bed's dimensions. Also, consider its construction and safety features, like guardrails and sturdy ladders or stairs.
Top 3 Twin Loft Beds
If you're finding it tough to narrow down your choices, here are three of my personal favorite Twin Loft Beds that cater to different needs.
1. Sunset Twin Loft Bunk Bed
The Sunset Twin Loft Bunk Bed is a stylish and functional sleeping solution, with a sturdy metal frame, full-length guardrails, and an integrated ladder for safety. It boasts a raised design that optimizes space usage, allowing the area underneath to serve as a workspace, storage, or leisure area. Its timeless design adapts to any interior decor, making it a valuable investment for efficient, convenient living.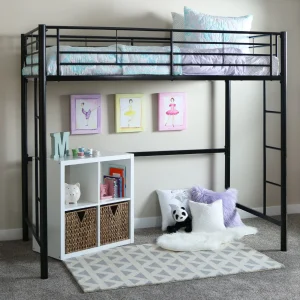 2. DHP Studio The Sage Studio Metal Loft Bed with Desk
The Sage Studio Metal Loft Bed with Desk combines comfort, utility, and elegance, offering a perfect solution for small spaces. Its robust metal frame supports a twin loft bed, beneath which lies a built-in desk, optimizing space while facilitating productivity. Its sleek design complements any room decor, making it a multifunctional, stylish addition to your living space.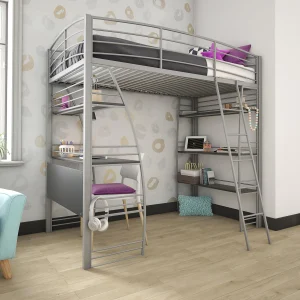 3. Donco Kids Low Study Loft Bed
The Donco Kids Low Study Loft Bed is perfectly tailored for younger children. The bed's lower height makes it safe and easily accessible, while the pull-out desk and bookshelf encourage an organized study routine.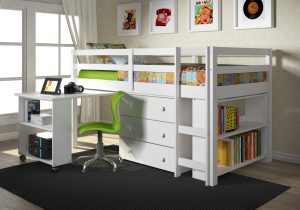 Setting Up Your Twin Loft Bed
Step-by-step Guide
Setting up your Twin Loft Bed might seem like a daunting task, but it's usually quite straightforward. Most beds come with a manual that guides you through the process. All you need are some basic tools and a bit of patience.
Safety Tips
When setting up your loft bed, safety should always be paramount. Ensure all the bolts and screws are tightly fitted and that the bed is stable. Once assembled, give the bed a good shake to test its stability. Make it a routine to regularly check the fittings, as they can loosen over time.
Maximizing the Space Under Your Loft Bed
Workspace Ideas
If you're looking for a quiet, isolated space to work or study, the area beneath your Twin Loft Bed can serve as an ideal workspace. The elevated design of the loft bed gives you ample room to place a desk that fits your needs. Whether you need a spacious surface for your computer setup or a cozy corner for writing, the possibilities are endless.
However, a workspace is more than just a desk. You can add shelves on the nearby walls for books or work materials. Hanging a notice board or a calendar can also help keep track of deadlines and important dates. For late-night study sessions, consider installing a good desk lamp that provides ample light without disturbing the sleeping area above.
And let's not forget about comfort. Invest in an ergonomically designed chair to maintain good posture during those long hours. Perhaps you might even add a small area rug under your chair for a touch of warmth and comfort. Remember, a workspace should inspire productivity but also be a place where you enjoy spending time.
Storage Ideas
The space beneath a Twin Loft Bed is a gold mine for storage. If your room lacks closet space, consider adding a compact wardrobe under the bed. For a more open look, install shelves and use stylish bins or baskets for storing clothes, shoes, and accessories.
Moreover, you can use this space to store items not used daily. Seasonal clothing, extra bedding, or sentimental items that you want to keep but don't need access to every day can find a home under your bed. Consider under-bed drawers or storage boxes for these items. They'll be out of sight, but you'll know exactly where they are when you need them.
Another innovative idea is to use this space for your hobby equipment. From musical instruments to crafting materials, the area can serve as an organized storage hub. If you're a book lover, create your mini library with shelves full of your favorite reads. For movie buffs, a cabinet to showcase your collection could be the perfect addition.
Leisure Area Ideas
Transforming the space under your Twin Loft Bed into a leisure area is another fantastic way to utilize it. Depending on your interests and the available space, there are countless possibilities.
For those who enjoy reading, create your personal sanctuary with a plush bean bag chair, a small side table, and a bookshelf. Add a warm, soft rug and a clip-on reading light to make it a cozy, well-lit nook. Hang some fairy lights for an extra touch of magic.
If you're into gaming, consider setting up your gaming station under the bed. A small TV stand, a console, a comfy chair, and your collection of games neatly displayed on a shelf can turn this area into a gamer's paradise.
For kids, this space can transform into an imaginative play area. Add a play mat and toy bins for a play corner. Or hang curtains around the base of the bed to create a little theatre for puppet shows. It could even be a fortress, a spaceship, or a fairy castle – the only limit is imagination.
Maintaining Your Twin Loft Bed
Cleaning Tips
Cleaning your loft bed is simple. Use a mild detergent mixed with warm water and a soft cloth to wipe down the bed's surfaces. Avoid harsh chemicals, as they can damage the finish and weaken the bed's material.
Regular Check-ups
Ensure your loft bed's longevity with regular check-ups. Look for signs of wear and tear, paying close attention to high-stress areas like the ladder, guardrails, and the bed joints.
Conclusion
In conclusion, a Twin Loft Bed is more than just a sleeping space. It's a lifestyle choice that maximizes room functionality without sacrificing style. By carefully selecting, setting up, and maintaining your bed, you'll enjoy the benefits of this versatile furniture piece for many years to come.
FAQs
1. Are Twin Loft Beds safe?
Absolutely! Provided they are correctly assembled and used following the manufacturer's guidelines, loft beds are safe. Ensure safety features like guardrails are secure and always use the ladder for climbing up and down.
2. Can adults use Twin Loft Beds?
Yes, adults can use Twin Loft Beds as long as they do not exceed the bed's specified weight limit. Always check this information with the manufacturer.
3. How much space do you need for a Twin Loft Bed?
A room height of at least 8 feet is generally sufficient to comfortably accommodate a Twin Loft Bed. The exact space needed will vary based on the bed's height.
4. Can Twin Loft Beds hold a full-size mattress?
No, Twin Loft Beds are designed for twin-size mattresses. Using a larger mattress can compromise the bed's stability and safety.
5. Can I add a bed underneath a Twin Loft Bed?
Some Twin Loft Beds are convertible and can accommodate a second bed underneath. However, this depends on the specific model, so it's always best to check with the manufacturer.
*We may earn a commission for purchases made using our links. Please see our disclosure to learn more.