Welcome to the wonderful world of built-in bunk beds, the ultimate space-saving solution. These beds are a delightful mix of practicality and aesthetic appeal. Built-in bunk beds are ideal whether you need to make room for several children or create an inviting guest room. Here's why you might consider installing them.
Understanding the Appeal of Built-In Bunk Beds
There's something incredibly appealing about built-in bunk beds. They're not just about making the most of the space you have; they're about transforming it.
Space Optimization
The core appeal of built-in bunk beds lies in their ability to optimize space. In rooms where floor space is a scarce commodity, these beds are a game-changer. They take advantage of vertical space, effectively freeing up the room's floor for other furniture or open play area for kids.
Unlike traditional beds that occupy a significant portion of the room, built-in bunk beds stack one bed over the other. This distinctive arrangement makes them the perfect solution for small rooms or spaces that need to accommodate multiple occupants.
Lastly, some models come with added features like under-bed storage or built-in desks. This multifunctionality transforms a simple bed into a comprehensive solution for sleep, storage, and study, further optimizing the utilization of space.
Aesthetics and Design
Built-in bunk beds can significantly enhance the aesthetics of a room. Their unique structure creates a focal point that draws the eye and adds a touch of novelty. Whether you prefer a modern minimalist design with clean lines or a cozy rustic style that exudes warmth, there's a bunk bed to match your taste.
The design possibilities with bunk beds are also vast. They can be a part of a theme for a child's room – a nautical theme with ship-like beds, or a fairytale theme with castle-style bunks. With some creativity, your bunk bed can be a standout piece that complements and enhances your room's decor.
Moreover, the structure of bunk beds allows for personalization. Each bunk can be styled according to the occupant's preference, making it a unique space in a shared room. Add some curtains for privacy or fairy lights for a cozy touch, and you've got a bed that's truly one of a kind.
Versatility and Variety
Built-in bunk beds are not just beds. They are versatile furniture pieces that offer a range of possibilities. With a variety of designs and features available, you can find a bunk bed to fit almost any need and preference.
Some bunk beds come with additional features like desks, shelves, or built-in wardrobes, making them a multifunctional piece of furniture. For teenagers or adults, a loft-style bunk bed with a desk or seating area underneath can be an excellent space-saving solution.
Additionally, some bunk beds offer the ability to separate into two individual beds, providing flexibility as your needs change. Whether you need to transition from a shared room to individual rooms, or need to accommodate guests, a bunk bed can adapt to your requirements.
Different Styles of Built-In Bunk Beds
There are various styles of built-in bunk beds available, each with its unique features and benefits.
Twin over Twin
The Twin over Twin style is the most classic design of bunk beds. Featuring two identical twin beds stacked one over the other, this style is ideal for children sharing a room. It offers each child their own personal space while taking up minimal floor area.
While the bottom bunk is easily accessible, the top bunk brings with it a sense of adventure. Many kids love the idea of climbing a ladder to their own special retreat. Plus, with two beds in the space of one, you'll have plenty of room left for play or study.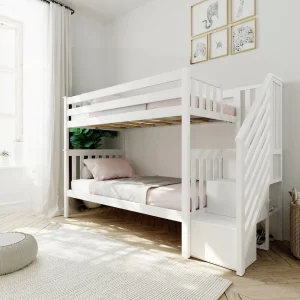 Full over Full
The Full over Full style of bunk beds is an upgrade in terms of size. Featuring two full beds, one atop the other, this style provides more sleeping area. It's perfect for teenagers who need more space or even for adults.
The extra space does not compromise on the style or charm of the bunk beds. You still have the aesthetic appeal and the space optimization, just with a bit more room to stretch out.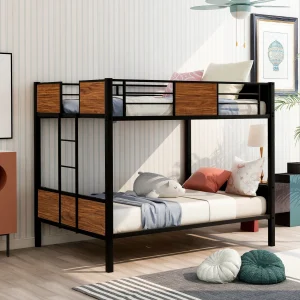 Twin over Full
The Twin over Full style offers a versatile arrangement by featuring a twin bed on top and a full bed at the bottom. This setup is perfect for siblings of different ages or for a guest room where both single adults and couples need to be accommodated.
The smaller top bunk maintains the charm and novelty of a bunk bed while the larger bottom bunk provides ample space for those who need it. This balance makes the Twin over Full a popular choice among diverse needs.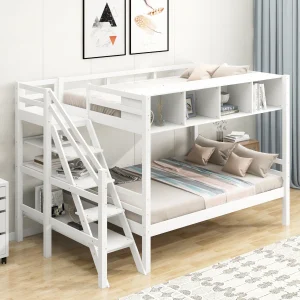 Key Considerations When Choosing Built-In Bunk Beds
Choosing the right bunk beds requires some consideration. Here are the key factors you should focus on.
Safety
When it comes to bunk beds, safety should be a primary concern, especially when children are the primary occupants. Bunk beds come with inherent risks, but with the correct safety measures, they can provide a secure sleeping arrangement.
Firstly, consider the age suitability. Generally, top bunks are not recommended for children under the age of six due to the risk of falls. Additionally, the ladder should be sturdy and easy to climb, while guardrails should be present on all sides of the upper bunk to prevent accidental falls during sleep.
It's also important to remember that bunk beds are not play equipment. Discouraging children from treating them as such can prevent accidents. Regularly checking the structure for any loose screws or signs of wear can ensure the bed remains safe for use over time.
Finally, consider the location of the bunk bed in the room. It should be placed away from windows, ceiling fans, or any other potential hazards. Also, ensure there is ample headroom for the upper bunk, so the occupant does not risk hitting their head.
Material and Durability
The material of the bunk bed plays a vital role in its durability and longevity. Typically, bunk beds are made from either wood or metal, each having its own advantages.
Wooden bunk beds are popular due to their sturdiness and classic appeal. They come in a variety of finishes to suit different room decors. Woods like pine, oak, or maple are commonly used due to their durability. However, wooden beds tend to be heavier and may be more challenging to assemble or move.
Metal bunk beds, on the other hand, are typically lighter and offer a more modern look. They're also often less expensive than their wooden counterparts. However, they might not provide the same level of stability, especially in cheaper models.
Regardless of the material, quality should be a top consideration. A well-constructed bunk bed can last for years, providing a safe and comfortable sleeping solution.
Ease of Assembly
Built-in bunk beds, despite their numerous benefits, can be a bit challenging to assemble. Ease of assembly is a factor worth considering, especially for those who plan to set up the beds themselves.
Some models come with clear, step-by-step instructions and all the necessary hardware included. This can make the assembly process much easier and quicker. Some manufacturers even provide assembly videos or online support.
On the other hand, more complex designs with additional features like storage or desks may require more time and effort to assemble. In some cases, professional help might be needed.
However, remember that the assembly is a one-time task. While ease of assembly is a factor, it shouldn't outweigh considerations like safety, comfort, and durability. An afternoon spent putting together a quality bed that will last years is a worthwhile investment.
Making the Most of Your Built-In Bunk Beds
Once you have chosen your built-in bunk beds, here are some tips to make the most of them.
Appropriate Bedding
Selecting appropriate bedding for built-in bunk beds is a crucial element that plays into comfort, aesthetics, and even safety. Due to the unique design of bunk beds, some considerations need to be made.
Firstly, when choosing mattresses, you should consider the thickness. A mattress that is too thick may reduce the safety railing's effectiveness on the top bunk, increasing the risk of falls. Measure the height of the safety rail and ensure your mattress does not exceed this height significantly.
Secondly, consider the size of the bedding. Typically, bunk beds require twin or full-size bedding depending on their design. It's essential to measure the dimensions of the mattress space to get the right size sheets and comforters. This ensures a neat fit and avoids any excess fabric that might hang loose and become a safety hazard.
Finally, consider the design and colors of the bedding. This can be a great opportunity to incorporate a theme or color scheme into the room's decor. Whether it's a favorite color, character theme, or a simple, neutral design, the bedding can greatly enhance the overall look of the bunk bed.
Storage Options
One of the significant advantages of built-in bunk beds is the potential for added storage. Having storage integrated into the bed design can save a lot of space, especially in smaller rooms.
Some bunk beds come with built-in drawers under the lower bunk, providing a convenient space for storing clothes, toys, or other items. This under-bed storage can replace the need for additional furniture like dressers, making it an excellent space-saving solution.
Additionally, some designs feature shelves or cubbies in the bunk bed structure. These can be used for storing books, alarm clocks, or decorative items. Some bunk beds even come with built-in wardrobes or study desks, further maximizing the usage of space.
Remember, the more complex the design, the more challenging the assembly might be. But with the additional functionality and space optimization, many find the trade-off to be worth it.
Enhancing the Decor
Built-in bunk beds are not just functional furniture pieces – they can significantly enhance the room's decor. With a wide range of styles and designs available, you can find a bunk bed that perfectly complements your existing interior design.
Consider the color and finish of the bunk bed. Whether you choose a natural wood finish, a painted surface, or a metal design, make sure it fits in with the color palette of the room. A bunk bed with a bold color or unique design can serve as a focal point, while a more understated design can blend seamlessly into the background.
Furthermore, consider the bedding and accessories. As mentioned earlier, bedding can bring color and theme into the room. Adding decorative pillows or throws can give the bunk beds a cozy and inviting look.
Finally, think about the arrangement of the room. If the room's size allows it, positioning the bunk bed in the center can make it a statement piece. Alternatively, placing it against the wall can create more open space in the room. The positioning will largely depend on the room's size and the bunk bed's design.
Conclusion
Built-in bunk beds are much more than just beds. They are a way to maximize space, enhance decor, and add a touch of fun to a bedroom. With a variety of styles and designs available, there's a built-in bunk bed for every need and preference.
FAQs
Are built-in bunk beds safe for young children?
Yes, provided they have high guardrails, a sturdy ladder, and meet all safety standards, built-in bunk beds are a safe sleeping solution.
Can adults sleep comfortably in built-in bunk beds?
Yes. Full over full or twin over full models provide plenty of space for adults.
What is the best material for built-in bunk beds?
Solid wood is durable and sturdy, but metal and composite materials can also be excellent choices, depending on the design and your personal preference.
Do all built-in bunk beds come with storage options?
Not all, but many do. Integrated storage features like drawers, shelves, or even desks can be incredibly useful.
How hard is it to assemble a built-in bunk bed?
Assembly difficulty varies by model. Some are straightforward, while others require more time and effort. Always read the assembly instructions before purchasing.
*We may earn a commission for purchases made using our links. Please see our disclosure to learn more.