Introducing the Casper Bed Frame
Casper is a reputable name in the mattress industry, but did you know they also offer exceptional bed frames? Let's take a closer look at what makes the Casper Bed Frame stand out.
Origins of the Casper Brand
Casper was born with the mission to provide a better night's sleep to everyone. Founded in 2014, the company has made great strides in delivering quality sleep products, including mattresses, pillows, sheets, and of course, bed frames.
Casper's Beginnings
Casper's journey began in 2014 when five friends came together with a common vision – to revolutionize the sleep industry. They realized that while sleep is an essential aspect of our lives, the industry had remained mostly static and outdated. This realization became the genesis of Casper – a company that aimed to transform the way people thought about their sleep and sleeping environments.
Casper's Philosophy
From its inception, Casper adopted a customer-centric approach. Their vision was to create a 'sleepscape' tailored to the specific needs of each customer. By designing innovative, quality products that focused not only on the aesthetic aspects but also on promoting better sleep, Casper aimed to change how people approach their bedtime.
Casper Today
Today, Casper is synonymous with quality and innovation in the sleep industry. With numerous awards and global recognition, the brand has stayed true to its original ethos. The company has expanded its product portfolio beyond mattresses to include everything sleep-related, from bed frames and bedding to sleep accessories.
What Makes Casper Bed Frames Unique
Quality of Materials
When it comes to bed frames, the quality of materials used directly impacts the durability and stability of the product. Casper Bed Frames are no exception. The primary material used in their construction is high-strength aluminum, known for its durability, lightweight nature, and resistance to corrosion. Aluminum's strength-to-weight ratio is higher than that of steel, making it an excellent choice for a sturdy, yet easy-to-move bed frame. It's important to mention that all aluminum used in Casper bed frames is rigorously tested to ensure it meets the highest industry standards.
In addition to the aluminum structure, other components of a Casper bed frame such as the slats and hardware are also manufactured from high-quality materials. The slats, often made from solid pine or similar robust woods, provide reliable support for any mattress type. They are designed to be flexible yet strong, preventing any sagging and enhancing the lifespan of your mattress. The hardware elements, including screws, bolts, and brackets, are made from premium metals to ensure maximum stability and longevity. The combination of these superior materials guarantees a bed frame that's not only aesthetically pleasing but also stands the test of time.
Innovative Design
Casper Bed Frames stand out in the market due to their innovative design principles. One of the key design aspects that sets them apart is the focus on simplicity without sacrificing functionality. Casper's design team has painstakingly worked to ensure that their bed frames maintain a minimalistic and modern look while still providing the robust support required for a good night's sleep. This results in a bed frame that can seamlessly blend into various bedroom decors while still serving as a strong and reliable base for your mattress.
Another aspect of the innovative design is the incorporation of thoughtful details that enhance the user experience. For instance, the Casper Bed Frame comes with an optional headboard bracket, allowing you to customize the bed frame to suit your preferences. Furthermore, the bed frames are designed to be noise-free, eliminating any squeaks or creaks that could disrupt your sleep. They also feature a thoughtful slat spacing design that provides optimum support and airflow, leading to better mattress breathability and longevity. By prioritizing both form and function, Casper ensures that their bed frames are not just furniture pieces, but essential elements that elevate the comfort and aesthetics of your sleep environment.
Ease of Assembly
Casper Bed Frames are renowned for their ease of assembly, a feature that makes them a top choice for many consumers. Each frame comes with a well-detailed, user-friendly manual that guides you through every step of the process. No special tools are required as everything you need for assembly is included in the package. The hardware elements, such as screws and bolts, are neatly packed and labeled for hassle-free identification. The bed frame pieces are engineered to fit together seamlessly, almost like a jigsaw puzzle, reducing the time and effort you need to put your bed frame together.
In addition to the simple assembly process, Casper's customer support is always available to assist with any issues that may arise during assembly. They provide excellent service, ensuring that you have the help you need to set up your bed frame correctly. Moreover, the company's website features video tutorials and guides that further simplify the assembly process. This commitment to a stress-free assembly experience makes Casper Bed Frames a popular choice for those who value convenience and efficiency. Whether you're a DIY enthusiast or someone who's less handy, you'll appreciate the thoughtfulness that goes into making the assembly of a Casper Bed Frame as straightforward as possible.
Choosing the Right Casper Bed Frame for You
Consider Your Mattress
The type of mattress you have can play a crucial role in choosing the right bed frame. Casper bed frames are designed to perfectly fit Casper mattresses, but they also accommodate most standard-sized mattresses.
Evaluate Your Space
Consider the size of your bedroom before choosing a bed frame. Casper offers frames in different sizes – from Twin to California King – to suit various room dimensions.
Think About Your Style
Your bed frame is a significant part of your bedroom decor. Whether you prefer a modern, sleek look or a more traditional, cozy style, there's a Casper bed frame to match.
Casper's Sustainability Efforts
In addition to delivering top-tier products, Casper is committed to sustainability. Their bed frames are made of responsibly-sourced materials, ensuring that your purchase has a lesser impact on the environment. Plus, their packaging is designed to reduce waste, another testament to their environmental consciousness.
Casper Bed Frame Models
The Casper Repose Bed Frame
The Casper Repose Bed Frame is a testament to Casper's commitment to combining functionality and aesthetic elegance. This bed frame is notable for its sturdy construction, made from high-quality wood and metal, providing an optimal balance of strength and style for years of sound sleep. Its sleek, modern design characterized by clean lines and a minimalist aesthetic, makes it versatile enough to blend in with various bedroom decors.
Beyond its stylish design and robust build, the Repose Bed Frame is also highly appreciated for its easy assembly. Detailed instructions accompany the product, ensuring a stress-free setup process. In essence, the Casper Repose Bed Frame offers a top-tier sleep solution that encapsulates style, durability, and ease-of-use, truly living up to the Casper brand reputation.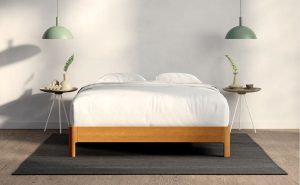 The Casper Adjustable Bed Frame
The Casper Adjustable Bed Frame provides a versatile and personalized sleep experience, allowing users to adjust their sleeping position at the touch of a button. This bed frame, particularly appealing to those who enjoy reading, watching TV, or working on their laptops in bed, offers various adjustment options. You can elevate your head, feet, or both, enabling you to find your perfect comfort position. Additionally, it includes preset positions such as Zero-Gravity, which alleviates pressure on the body, promoting better circulation and potentially improving sleep quality.
Beyond the functional benefits, the Casper Adjustable Bed Frame also excels in its design and construction. It's built with high-quality materials to ensure longevity and reliable performance. A retainer bar at the foot of the bed keeps the mattress in place, no matter how much you adjust your position. Assembly is simple, and the sleek, modern design ensures this bed frame fits seamlessly into any bedroom décor.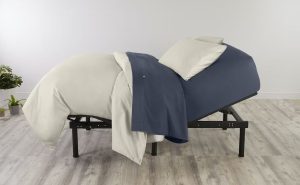 The Casper Upholstered Bed Frame
The Casper Upholstered Bed Frame brings a touch of elegance to any bedroom with its plush, tailored aesthetic. This frame stands out with its premium, hand-sewn upholstery, offering a luxurious touch that complements any style of home décor. From the velvety fabric to the solid pine and steel construction, every detail is carefully curated for a high-end, durable finish.
Functionality and style blend seamlessly in this bed frame, with each element designed with the user's convenience in mind. The sturdy slatted base ensures optimal mattress support and breathability, promoting a longer lifespan for your Casper mattress. The simple assembly process eliminates the need for additional tools and makes it easy even for those with limited DIY skills. With its sleek design and quality craftsmanship, the Casper Upholstered Bed Frame offers an excellent balance of style, durability, and comfort, making it a prime choice for any modern bedroom.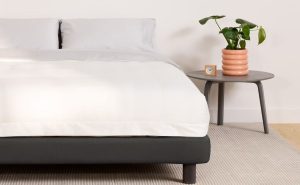 Where to Purchase a Casper Bed Frame
Casper makes it easy to buy their bed frames. You can purchase directly from their website or find their products in various retail stores. Remember, shopping around and checking customer reviews can ensure you get the best deal.
Care and Maintenance for a Long-lasting Frame
With proper care, a Casper bed frame can last for years. Regularly check and tighten the bolts and screws, clean the upholstery (if applicable), and avoid exceeding the weight limit to ensure the longevity of your bed frame.
Why Casper Is a Great Investment
Investing in a Casper bed frame is investing in a good night's sleep. With their premium quality, innovative design, and exceptional durability, Casper bed frames provide excellent value for money.
Conclusion
In the sea of bed frames available in the market, Casper stands out for its commitment to quality, comfort, and style. Whether you're a first-time buyer or looking to upgrade your current frame, Casper offers an excellent range of options to suit your individual needs and preferences.
Frequently Asked Questions
How long does a Casper bed frame last?
With proper care and maintenance, a Casper bed frame can last for many years.
Are Casper bed frames easy to assemble?
Yes, Casper bed frames come with clear instructions and the necessary tools for assembly.
Can I use a non-Casper mattress with a Casper bed frame?
Yes, while Casper bed frames are designed to fit Casper mattresses perfectly, they also accommodate most standard-sized mattresses.
Is a Casper bed frame worth the investment?
Given their high-quality materials, innovative design, and ease of assembly, Casper bed frames offer excellent value for money.
Does Casper offer a warranty on their bed frames?
Yes, Casper provides a warranty on their bed frames. Please check their official website or contact customer service for more details.
*We may earn a commission for purchases made using our links. Please see our disclosure to learn more.