Bed frames have been a staple in our homes for centuries. From being merely functional pieces, they have become important decorative elements that reflect personal style and comfort. And how about Corner Bed Frame.
The Evolution of Bed Frames
Bed frames have been an integral part of human history, evolving alongside our changing lifestyles and aesthetic preferences. In ancient times, bed frames were rudimentary, often made from stone or wood, serving the primary purpose of elevating sleepers from the ground to protect them from drafts and pests. As civilizations progressed, so did the intricacies of their bed designs. The Renaissance period, for instance, saw the use of lavish materials and intricate carvings, reflecting the era's opulence. Fast forward to the industrial revolution, and metal bed frames became the rage, symbolizing the age's innovation and industrial prowess.
The concept of corner bed frames emerged as a response to the modern-day challenges of space constraints. As urban living spaces began shrinking, the need for furniture that was both functional and space-efficient became paramount. Corner bed frames, designed to fit snugly into a room's corner, addressed this need perfectly. Not only did they maximize the use of space, but they also introduced a fresh, contemporary aesthetic to bedroom designs. Their popularity soared, especially in city apartments and studio spaces, where every inch of space was precious.
Benefits of a Corner Bed Frame
Space Optimization: Corner bed frames are perfect for smaller rooms, allowing you to utilize every inch of space effectively.
Unique Aesthetic Appeal: Their distinct design can become a focal point, adding a touch of modernity and elegance to any bedroom.
Enhanced Room Flow: By tucking the bed into a corner, you often create a more open central space, making the room feel larger and more accessible.
Versatility in Design: Whether you're aiming for a contemporary look or a cozy nook vibe, corner bed frames come in various styles to match your decor.
Ideal for Shared Rooms: In shared bedrooms, especially for kids, corner beds can provide each individual with their own defined space.
Increased Wall Space: With the bed nestled in the corner, you have more uninterrupted wall space for art, shelving, or other decor elements.
Safety and Comfort: For young children or restless sleepers, having a bed against two walls can provide a feeling of security and reduce the risk of falling out.
Easy to Accessorize: Corner beds offer unique opportunities for decorative canopies, fairy lights, or even corner shelving above the bed.
Cost-Effective: Often, corner bed frames can be more affordable than traditional frames, especially when considering custom room solutions.
Innovative Storage Solutions: Many corner bed frames come with built-in storage options underneath, maximizing the utility of the space.
Key Features to Consider
When shopping for a corner bed frame, it's essential to keep in mind the specific features that will best suit your needs. Firstly, consider the overall design and how it complements your existing decor. A bed isn't just a functional piece; it's a significant element of your bedroom's aesthetic. Secondly, think about the longevity and durability. A bed frame should be a long-term investment, so it's crucial to choose one that will stand the test of time, both in terms of construction and style.
Material Choices
The material of your corner bed frame plays a pivotal role in its durability, appearance, and comfort. Wood, for instance, offers a classic, timeless appeal and is known for its sturdy nature. Whether you opt for oak, mahogany, or pine, wooden frames provide a warm and cozy ambiance. On the other hand, metal frames, often made of iron or steel, offer a sleeker, more modern look. They're also incredibly durable and can be more lightweight than their wooden counterparts. Upholstered frames, covered in fabric or leather, provide a plush look and can add a touch of luxury to your bedroom.
Size and Dimensions
Size matters, especially when it comes to bed frames. Before making a purchase, measure your available space to ensure the frame fits comfortably, leaving room for other furniture and easy movement around the room. Corner bed frames come in standard sizes like twin, full, queen, and king. However, because they're designed to fit snugly in a corner, it's crucial to account for both the length and width of the bed, as well as the room's two adjoining walls.
Additional Storage Options
One of the significant advantages of corner bed frames is the potential for added storage. Many designs incorporate under-bed drawers or shelves, which are perfect for storing bedding, clothes, or other items. This feature is especially beneficial for those with limited space, as it maximizes the room's utility. When considering storage options, think about the accessibility of the drawers and the weight they can bear. Some frames also offer headboard storage, providing additional space for books, decor, or other essentials.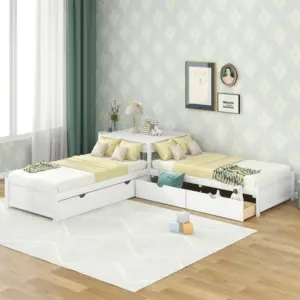 A corner bed frame offers a unique design opportunity. Its unconventional positioning allows homeowners to experiment with various decor styles, ensuring that the bed becomes the room's focal point. Whether you're aiming for a minimalist look or a more elaborate design, the corner bed frame serves as a versatile canvas.
Modern Decor
For those who lean towards a contemporary aesthetic, the key is to embrace simplicity and clean lines. Choose a corner bed frame with a sleek design, preferably in neutral shades. Pair it with monochromatic bedding to create a cohesive look. Accentuate with geometric patterns, either in the form of throw pillows or wall art. Incorporate modern fixtures, like pendant lights or metal side tables, to complete the look. Remember, in modern decor, less is more. So, avoid clutter and ensure that every piece has a purpose.
Vintage Decor
If you're a fan of all things vintage, a corner bed frame can be styled to evoke nostalgia. Opt for wooden frames, preferably with intricate carvings or a distressed finish. Bedding in floral patterns, lace trims, or ruffled edges can add to the vintage charm. Accessorize with antique pieces, be it a vintage night lamp, an old-world clock, or framed black and white photos. Soft lighting, perhaps from a chandelier or vintage sconces, can set the right mood. And don't forget the power of textures. Velvet throw pillows, a woolen blanket, or a shaggy rug can add layers to your vintage setup.
The 5 Top Brands
Lampart Twin Size L-Shaped Upholstered Platform Bed with Trundle and Two Drawers
Cushy Upholstered Platform Corner Bed
Mid-Century Side Storage Platform Bed
Full Size Upholstered Daybed, Mid Century Wood Sofa Bed Frame with Backrest and Armrest
Baxton Studio Faraday Modern and Contemporary Dark Brown Finished Wood Twin Size Platform Storage Corner Bed
1. Lampart Twin Size L-Shaped Upholstered Platform Bed with Trundle and Two Drawers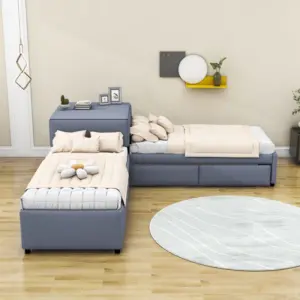 The Lampart Twin Size L-Shaped Upholstered Platform Bed is a multifunctional furniture piece that combines sleep space with storage efficiency. Its clever L-shape design fits snugly in corners, and the included trundle and drawers make it a practical choice for small rooms or multi-use spaces.
Pros: Space-saving L-shape, additional trundle bed for guests, and built-in storage drawers.
Cons: May be complex to assemble; trundle bed might not support heavy weight.
Material: Upholstered in soft fabric with a sturdy wooden frame.
Firmness: Platform beds typically offer a firmer support due to the solid surface.
2. Cushy Upholstered Platform Corner Bed
The Cushy Upholstered Platform Corner Bed is designed to provide a cozy nook with its plush upholstery and corner-fitting structure, making it a stylish and space-efficient solution for any small bedroom.
Pros: Comfortable upholstery, fits neatly in corners to save space.
Cons: Limited under-bed storage space due to design.
Material: Soft upholstered fabric over a solid wood and plywood frame.
Firmness: Offers medium firmness with a supportive platform base.
3. Mid-Century Side Storage Platform Bed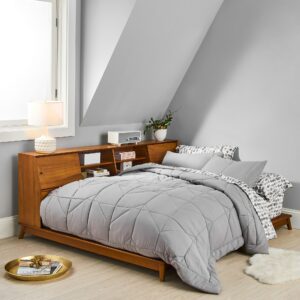 This Mid-Century Side Storage Platform Bed brings a touch of retro charm with its clean lines and functional design, featuring side storage compartments for a blend of style and utility.
Pros: Stylish mid-century design, integrated side storage for convenience.
Cons: May require larger room space for side storage access.
Material: Typically crafted from walnut or teak wood with a veneer finish.
Firmness: Firm support, common with platform beds, ideal for back and stomach sleepers.
4. Full Size Upholstered Daybed, Mid Century Wood Sofa Bed Frame with Backrest and Armrest
The Full Size Upholstered Daybed is a versatile piece that doubles as a sofa, featuring a mid-century design with a sturdy wood frame, ideal for lounging or accommodating overnight guests.
Pros: Dual-function as a daybed or sofa, includes backrest and armrest for comfort.
Cons: Might not be ideal for everyday primary sleeping use.
Material: Mid-century inspired wood frame with upholstered cushions.
Firmness: Depends on the mattress used, but the frame allows for a customizable firmness level.
5. Baxton Studio Faraday Modern and Contemporary Dark Brown Finished Wood Twin Size Platform Storage Corner Bed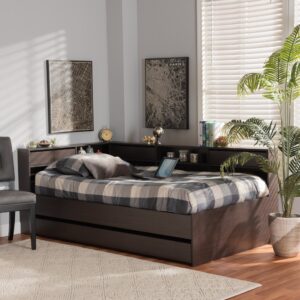 The Baxton Studio Faraday is a sleek and modern corner bed that offers a practical design with additional storage, featuring a contemporary look with its dark brown finish.
Pros: Contemporary design, incorporates storage without compromising style.
Cons: Dark color may show dust easily; limited to twin size.
Material: Dark brown finished wood, often engineered wood with a laminate veneer.
Firmness: As a platform bed, it provides firm support suitable for most mattress types.
Maintenance and Care Tips
Maintaining a corner bed frame requires a blend of regular upkeep and occasional deep cleaning to ensure its longevity. Due to its unique positioning, it's essential to pay attention to areas that might be overlooked in standard bed frames. Start by regularly dusting the frame, especially the corners and hidden nooks, to prevent the accumulation of dust and allergens. Using a soft cloth or a vacuum with a brush attachment can be effective.
For wooden corner bed frames, it's crucial to protect them from moisture and direct sunlight, which can cause the wood to warp or fade. If spills occur, wipe them immediately with a damp cloth and then dry the area thoroughly. For metal frames, check periodically for signs of rust or wear. If you spot any, consider using a rust-proof paint or sealant to address the issue. Upholstered frames require occasional vacuuming, and for stains, it's best to follow the manufacturer's cleaning recommendations. Rotating and flipping the mattress, if possible, can also prolong its life and provide even wear.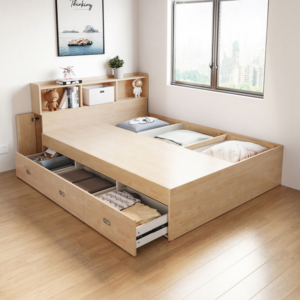 Conclusion: Making the Most of Your Bedroom Space
In today's world, where efficient use of space is paramount, corner bed frames emerge as a stylish and practical solution. They not only maximize the room's floor area but also offer a fresh perspective on bedroom aesthetics. Whether you're living in a compact city apartment or just looking to optimize a guest room, corner bed frames provide a blend of functionality and design flair.
Moreover, with the myriad of design options available, from sleek modern styles to vintage-inspired frames, there's a corner bed frame to suit every taste and decor preference. By pairing it with the right accessories and decor, you can transform your bedroom into a cozy retreat. Remember, it's not just about saving space; it's about creating a room that reflects your personality and offers a sanctuary from the hustle and bustle of daily life.
FAQs
How do I assemble a corner bed frame?
Most brands provide a detailed instruction manual. It's advisable to follow it for a hassle-free setup.
Can I customize the design of my corner bed frame?
Some brands offer customization, but it might come at an additional cost.
What's the weight capacity of these frames?
It varies based on the material and design. Always check the product specifications.
How often should I maintain my bed frame?
Regular dusting is advised, with a thorough clean-up every six months.
Are corner bed frames costlier than regular frames?
The price largely depends on the material, brand, and additional features. However, they're competitively priced in the market.
*We may earn a commission for purchases made using our links. Please see our disclosure to learn more.