Every year, as the festive season approaches, there's a unique thrill in the air. The excitement of Christmas is not just about the gifts under the tree or the sumptuous meals; it's also about the joy of turning our homes into a cozy winter wonderland. Central to this transformation is our bedding. Now, you might wonder why bedding would be significant in the grand scheme of Christmas festivities. Let's unravel this mystery.
Imagine it's a frosty December night; snow is gently falling outside, painting the world white. You're about to retreat to your bedroom, and as you pull back the duvet, you're greeted with a vibrant depiction of Santa's sleigh or a peaceful snow-covered village. It's not just fabric; it's a tapestry of Christmas tales and memories that lull you into a serene slumber. It's an experience, a feeling, a warm embrace of the Christmas spirit.
Crafting the perfect Christmas-themed bedroom goes beyond just choosing a design. It's about syncing with the aura of your entire home, ensuring comfort, and making sure the motifs resonate with your personal festive spirit. It's more than just aesthetics; it's about capturing the very essence of the holiday season.
Why is Christmas Bedding a Game-Changer for the Festive Season?
For many of us, Christmas is not just a day; it's a season, a feeling, a state of mind. Every corner of our homes reflects this spirit, from the twinkling lights on our windows to the wreaths on our doors. So, why should our bedroom be any different? By choosing the perfect Christmas bedding, we're not just decorating a room; we're encapsulating the joy, warmth, and wonder of the holiday season.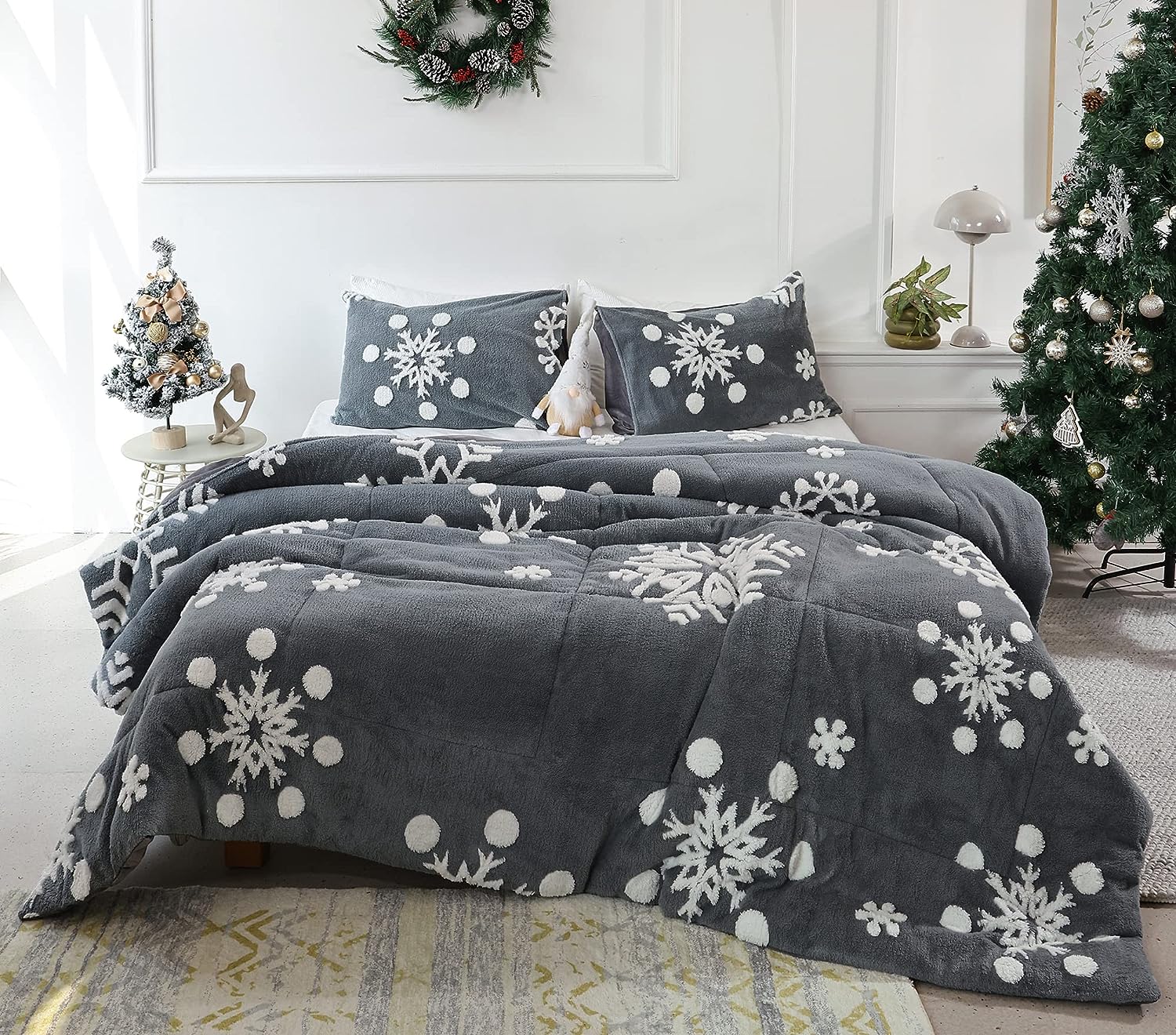 Christmas Bedding: More than Just Decoration
At its core, Christmas bedding isn't just about having festive designs on fabric. It's an invitation to a restful night filled with dreams of sugarplums, snowmen, and magical winter landscapes. When you wrap yourself in a duvet filled with Christmas motifs, you're not just seeking warmth; you're immersing yourself in the magic of the season. It serves as a gentle reminder of childhood memories, traditions, and the stories we've been told about this wondrous time of year.
A Seamless Blend of Comfort and Celebration
Lastly, let's talk comfort. Christmas bedding, with its plush fabric and snug feel, offers unparalleled comfort during the chilly winter nights. The festive motifs are a bonus, seamlessly blending the functional need for warmth with the joyous celebration of the season. So, when you opt for Christmas-themed bedding, you're making a choice that's both practical and filled with holiday spirit. It's a game-changer, making every night leading up to Christmas Day feel special and magical.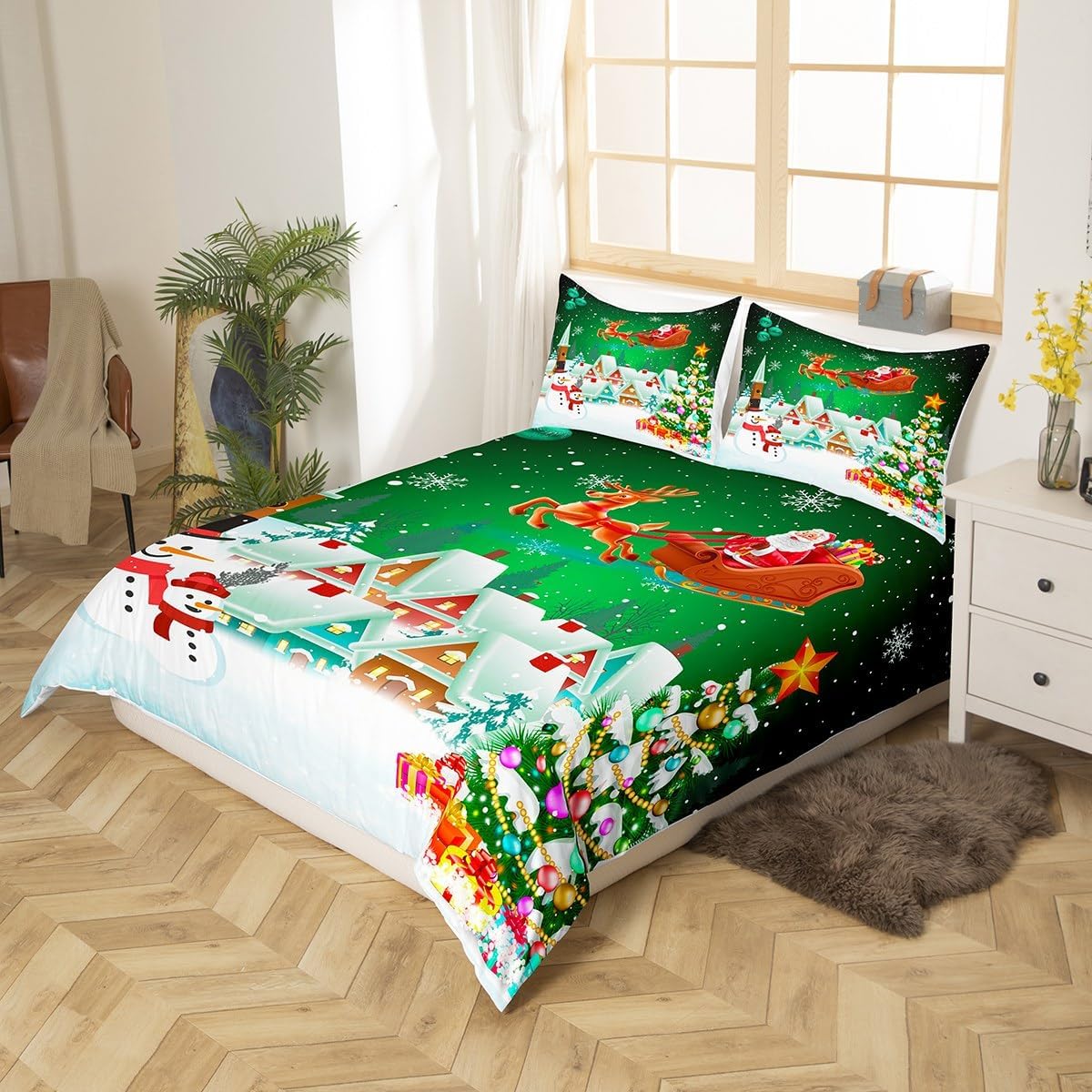 Dive into the World of Popular Christmas Bedding Motifs
When the Christmas season approaches, there's a magic that seems to touch every aspect of our lives. One subtle yet effective way to embrace this magic is through Christmas bedding motifs. These designs go beyond aesthetics; they weave stories, evoke memories, and transport us to festive realms. Just as we take time to select the perfect Christmas tree ornament or holiday cookie design, picking the right bedding motif becomes an essential part of our holiday preparations.
The bedroom is our private sanctuary, and during the festive season, it becomes a canvas for our Christmas dreams. The motifs on our bedding become the backdrop for these dreams, setting the mood and tone for a deep, restorative sleep filled with visions of Christmas magic. From serene snowy scenes to playful elves, the world of Christmas bedding motifs offers endless possibilities to customize our sleep experience.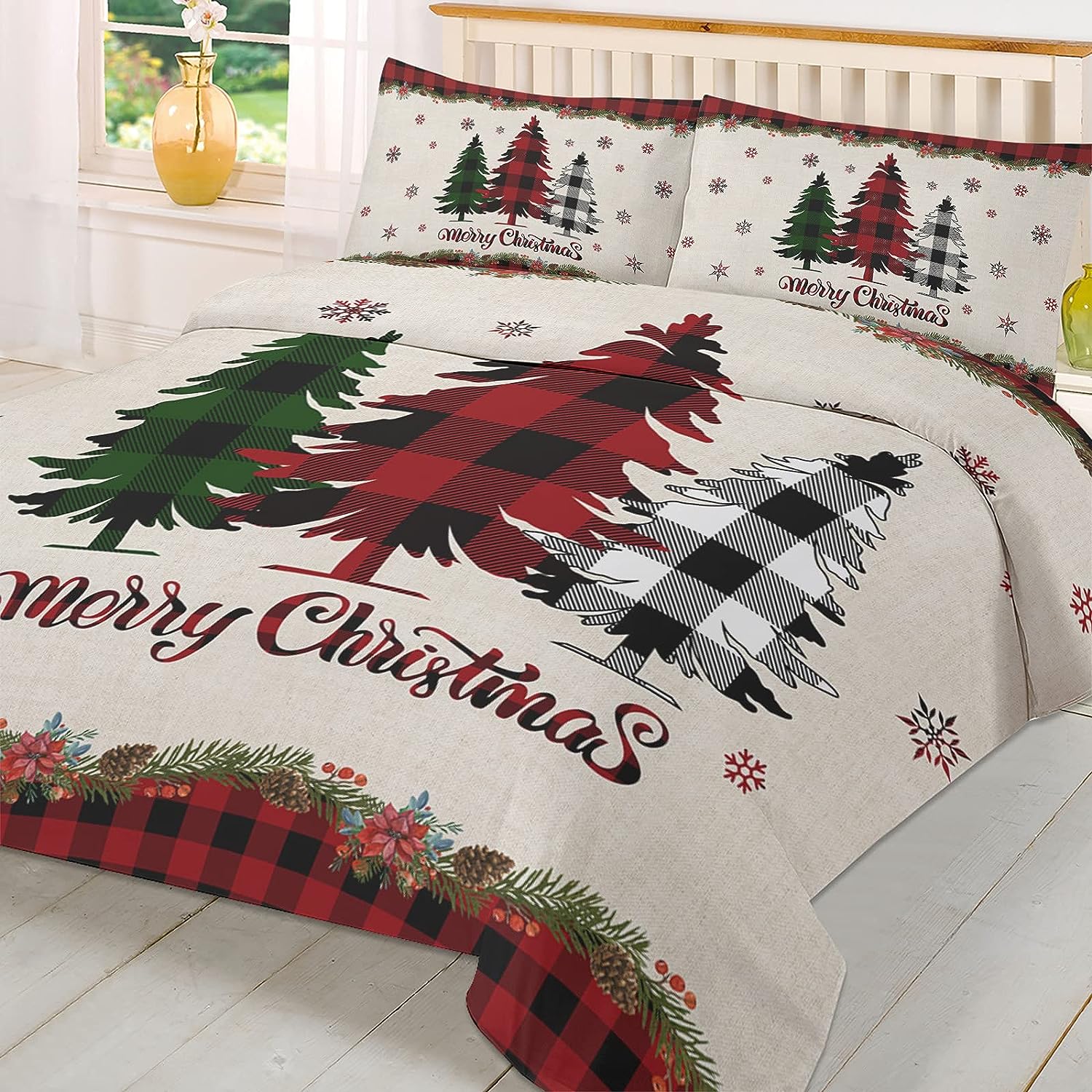 Snowflakes and Stars: A Winter Wonderland
The Serenity of Snow: Snowflakes, with their intricate designs and delicate form, capture the essence of winter's serene beauty. Bedding that showcases these frosty marvels brings a sense of calm and wonder to the bedroom. As you pull up a duvet adorned with snowflakes, it's easy to imagine the silent world outside, transformed into a shimmering wonderland by a fresh blanket of snow.
Starry Nights and Festive Lights: Stars, often used in Christmas motifs, signify hope, wonder, and the mystical aspect of the season. A bedding set adorned with stars transports us to clear December nights where the sky is alight with thousands of twinkling stars, mirroring the festive lights that adorn our homes and streets.
Santa Claus and His Reindeers: Keeping Traditions Alive
The Timeless Tale of Santa: There's no figure more iconic during Christmas than Santa Claus. Bedding that celebrates this jolly old man and his mission to spread joy rekindles our belief in the magic of the season. For both children and adults, drifting off to sleep amid images of Santa is a reminder of the anticipation and excitement that Christmas Eve brings.
A Midnight Journey Across the Sky: Santa's reindeers are symbols of the incredible journey undertaken every Christmas Eve. Bedding that features these magnificent creatures captures the adventure, the magic, and the worldwide celebration of a holiday filled with gifts, love, and warmth.
Trees, Baubles, and Wreaths: O Christmas Tree
The Heart of Christmas Celebrations: The Christmas tree, with its gleaming baubles and twinkling lights, stands at the heart of our holiday celebrations. Bedding that showcases this festive symbol brings the spirit of unity, celebration, and tradition right into the bedroom. As you rest beneath a quilt adorned with trees and ornaments, you're enveloped in the essence of the holiday.
Wreaths: A Circle of Festive Joy: Wreaths, often hung on doors, signify a welcoming of guests and the festive season. Including them in bedding designs extends this welcome to the realm of sleep, ensuring that the spirit of Christmas joy and fellowship continues even in our dreams.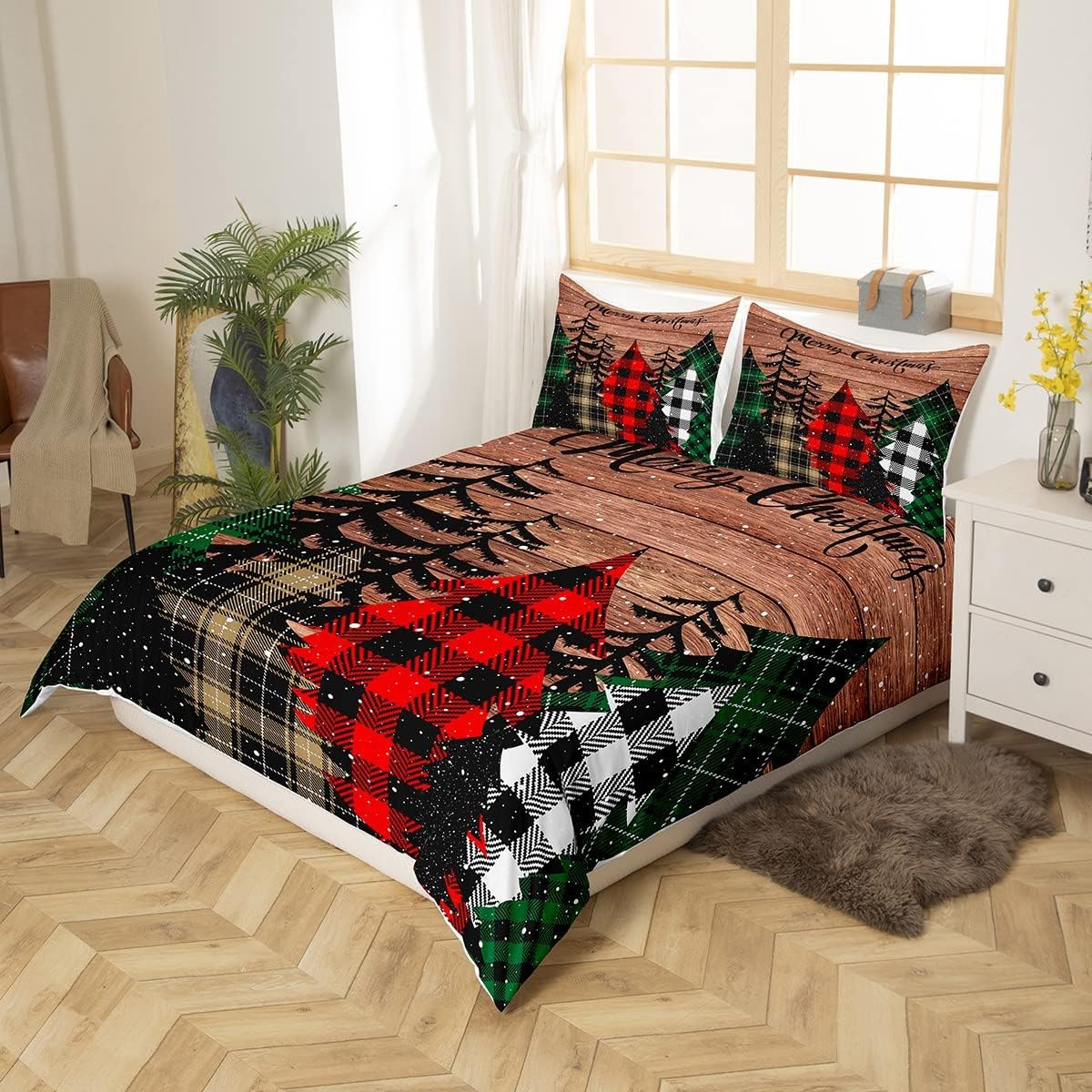 Quirky Elves and Stockings: A Touch of Fun
Elves: The Playful Helpers of Santa: Elves, with their mischievous smiles and twinkling eyes, bring a playful touch to Christmas lore. Bedding featuring these little helpers adds a dose of fun and whimsy to the bedroom. Their presence is a nod to the behind-the-scenes magic that happens at the North Pole, reminding us of the hard work that goes into making Christmas special.
Stockings: A Symbol of Anticipation and Surprises: Nothing captures the childlike anticipation of Christmas morning quite like stockings hung in a row, awaiting Santa's surprises. Incorporating stockings into bedding designs evokes memories of early morning excitement, whispered giggles, and the joy of discovering tiny treasures tucked inside each stocking.
Mixing and Matching: Creating the Perfect Christmas Bedroom Aesthetic
Christmas is all about personal touches. Mix those snowflake sheets with a Santa duvet or pair your elf pillowcases with starry blankets. There's no right or wrong – just what feels Christmassy to you!
The Art of Combination
Dressing your bedroom for Christmas is much like curating a piece of art. It's not always about getting the most expensive set or the most vibrant patterns. The real magic lies in the blend – the harmonious combination of different elements that create a cohesive festive narrative. Mixing and matching different Christmas bedding motifs allows for a personalized touch, ensuring that the bedroom reflects your unique style and the specific holiday vibes you want to convey.
Balance of Color and Theme of Christmas Bedding
One of the first things to consider when mixing and matching is color coordination. The festive season is rife with traditional colors like red, green, gold, and silver. However, there's also a rising trend of pastel Christmases, with soft pinks, blues, and purples. Decide on a color palette that resonates with you. Once you have that, play around with different motifs. For instance, a duvet with a dominant snowy landscape can be paired with pillowcases showcasing subtle silver stars. Or, a bold Santa-themed comforter might be complemented by more neutral-toned sheets with just a hint of festive sparkle.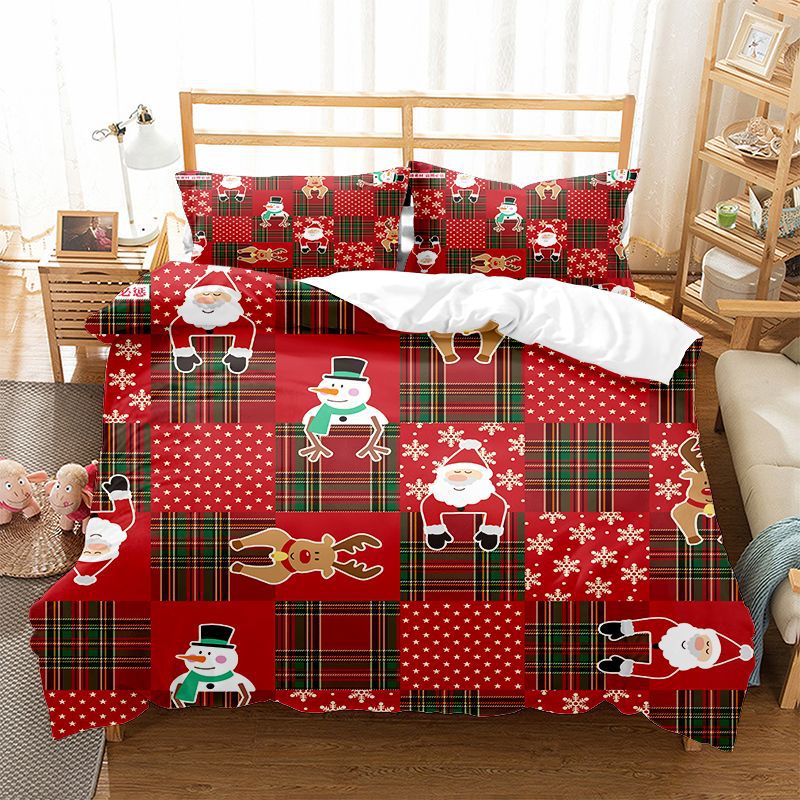 Incorporating Textures and Layers into Christmas Bedding
Beyond colors and patterns, another dimension to consider is texture. The winter season calls for cozy, plush materials that not only keep you warm but also add depth to the aesthetics. A flannel sheet with a muted Christmas tree pattern can be paired with a luxurious velvet quilt showcasing intricate snowflake designs. Throw in a faux fur pillow with a reindeer motif, and you've added yet another layer of coziness. Remember, it's not just about the visuals; the tactile experience is equally important. Your bedroom should invite you in, promising warmth, comfort, and festive cheer in every corner.
By thoughtfully mixing and matching, you transform your bedroom into a personal Christmas haven, blending tradition and innovation, comfort and style, memories of the past, and hopes for the future.
My Top Picks for This Season's Best Christmas Bedding
Snowy Elegance Collection: A beautiful blend of snowflakes and stars – it's like sleeping in a winter wonderland.
Vintage Santa Set: A nostalgic trip down memory lane with old-school Santa designs.
Festive Fun Christmas Sheets Assortment: A vibrant mix of elves, stockings, and baubles for those who love a burst of color and fun.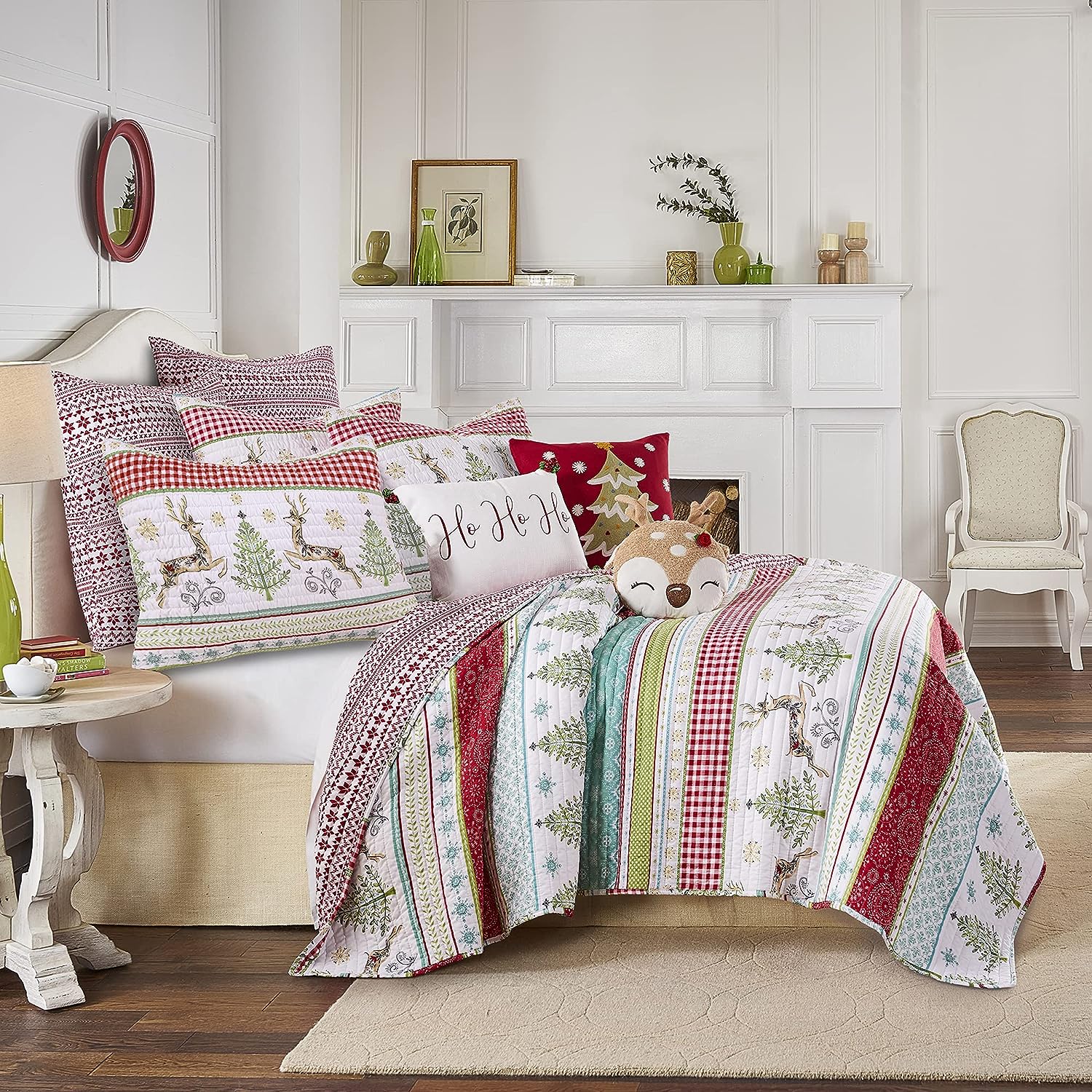 Embracing the Classics: The Timeless Charm of Red and Green
Every year, without fail, the classic combination of red and green emerges as a favorite. This season is no exception. Bedding sets that harness these two hues often weave in traditional motifs, from intricate holly patterns to tartan checks. One of my top picks is a duvet cover that juxtaposes these colors against a crisp white background. This design showcases elegant mistletoe branches intertwined with red berries. It's the epitome of festive elegance, bringing forth a vintage vibe that's reminiscent of Christmases of yore.
Winter Wonderland: The Enchantment of Snowy Scenes
There's something utterly magical about a snowy landscape – the pristine white blanket that covers everything, the hush that envelops the world. This season, bedding sets capturing this serene beauty have captured my heart. One standout piece is a soft blue comforter dotted with delicate white snowflakes, punctuated here and there with playful snowmen. The design, with its gentle color palette and whimsical motifs, promises a peaceful night's sleep, perhaps filled with dreams of frolicking in the snow.
Modern and Chic: Minimalism Meets Festivity
For those with a penchant for contemporary aesthetics, this season offers a range of minimalist yet festive options. One of my favorite picks in this category is a sleek, gray duvet cover that flaunts a singular gold geometric Christmas tree at its center. The design, devoid of the usual cacophony of festive patterns, makes a subtle yet impactful statement. It's proof that you don't need a riot of colors or an overload of motifs to capture the Christmas spirit.
Rustic Charm: Farmhouse Festivities
Farmhouse aesthetics have always held a certain allure, combining simplicity with timeless elegance. One bedding set that particularly caught my eye this season brings that rustic feel to the fore. It features a soft beige background adorned with vintage red trucks carrying Christmas trees, harking back to simpler times and family traditions of picking out that perfect tree. Paired with plaid pillow covers in muted shades of green and red, this set invokes a sense of nostalgia.
Luxurious Elegance: Velvety Hues of Midnight Blue
For those who lean towards luxury, a deep midnight blue velvet bedding set has made waves this season. Embellished with silvery snowflakes and stars, it reflects the deep tranquility of winter nights. The plush texture offers both tactile comfort and opulence, making every night feel like a festive occasion.
Whimsical Delight: Elves and Fairy Lights
Playfulness has its own charm during the festive season. One quirky pick that's high on my list is a bedding set featuring mischievous elves tangled up in fairy lights. Set against a soft lavender background, it brings a touch of humor and whimsy to the bedroom, ensuring smiles before bedtime.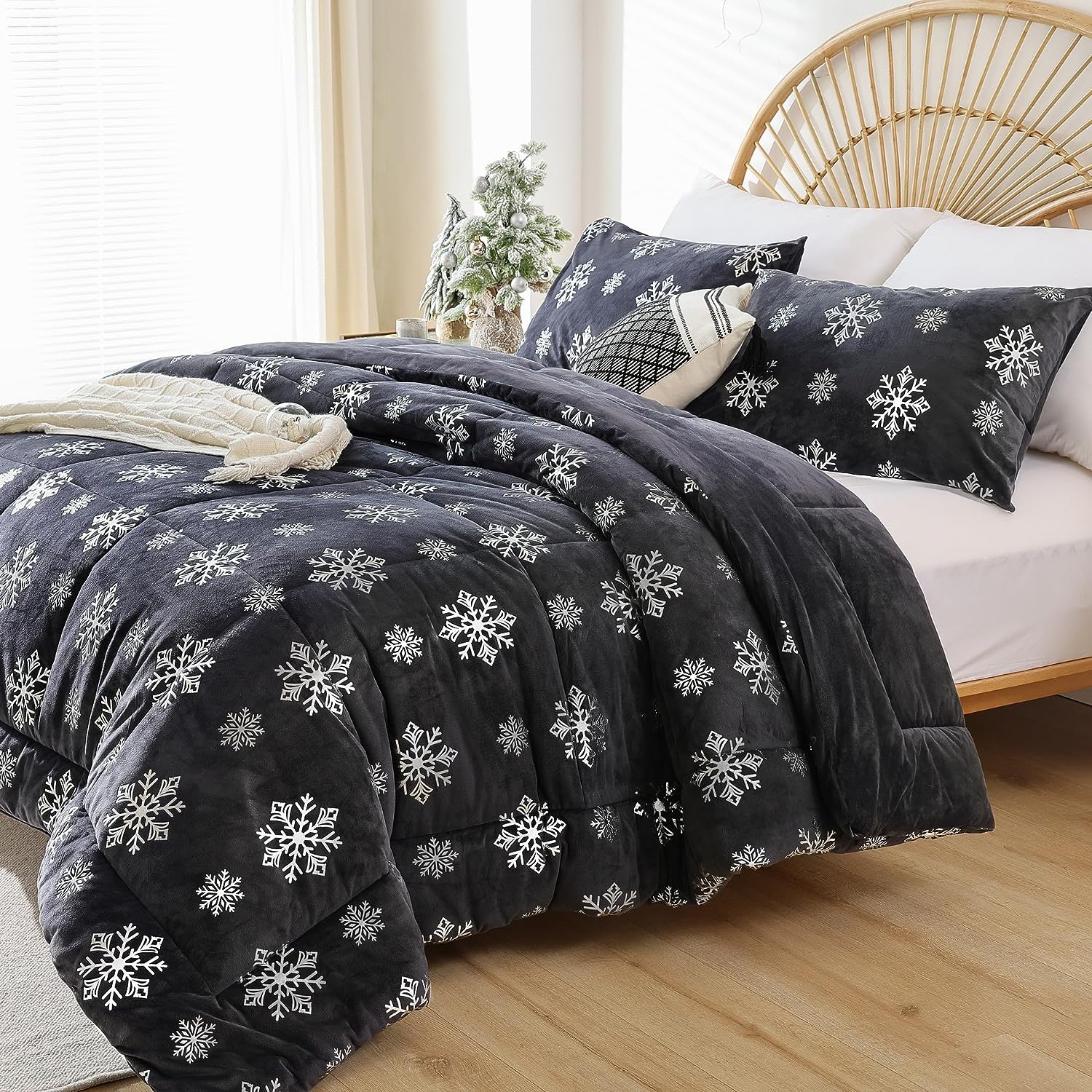 Nature's Touch: Pine Cones and Evergreens
For nature enthusiasts, there's a set that beautifully captures the essence of the great outdoors. A serene forest green duvet cover, subtly patterned with pine cones, branches of evergreen, and occasional cardinals, it brings the tranquility of a winter forest indoors. The design, while festive, is also versatile enough to carry through the winter months post-holidays.
Contemporary Monochrome: Black, White, and Sparkle
Breaking away from traditional color palettes, one of this season's standouts is a monochrome bedding set. Featuring elegant patterns of reindeers, trees, and snowflakes in stark black and white, it exudes modern sophistication. What sets it apart are the unexpected splashes of sparkle – sequined areas that catch the light, adding a dash of festive glitz.
Marry Christmas with The Christmas Bedding
With the array of designs and themes available this season, there's truly something for everyone. Whether you're aiming for nostalgia, luxury, or modernity, this year's Christmas bedding collections promise to make your festive nights cozy, comfortable, and undeniably stylish. The world of Christmas bedding is vast and delightful. Dive in, choose what resonates with you the most, and let your bed be the coziest spot this holiday season. Sweet dreams and happy holidays!
*We may earn a commission for purchases made using our links. Please see our disclosure to learn more.